This event has already taken place.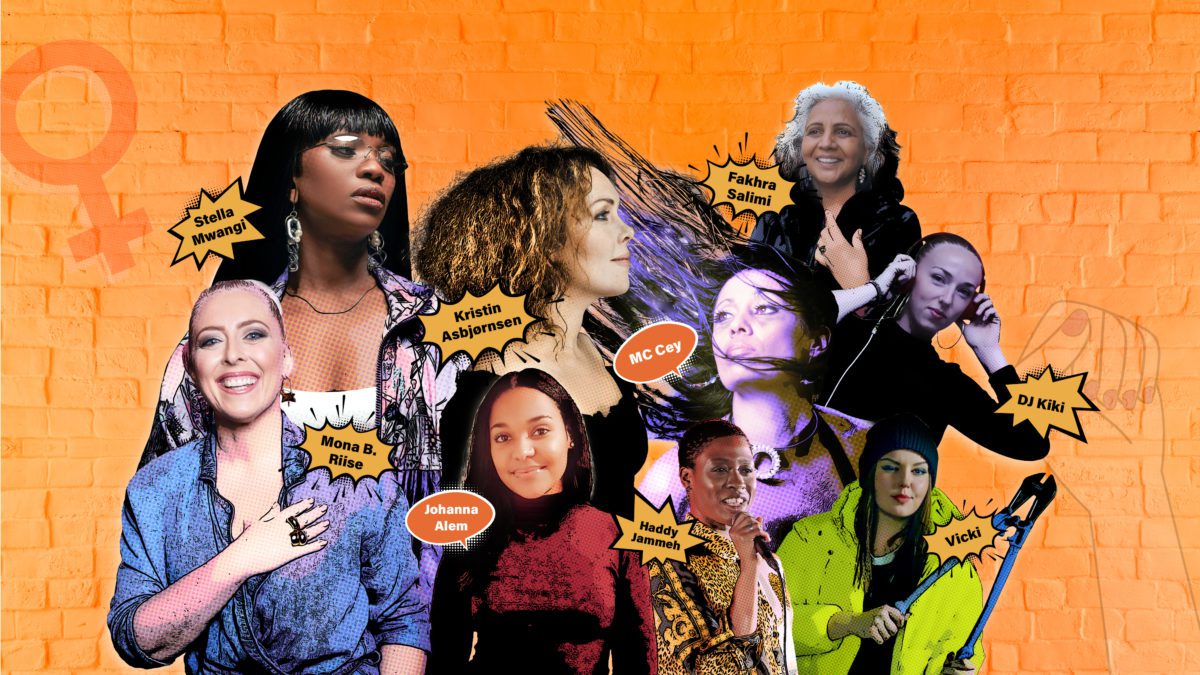 Tuesday, March 8th
Melahuset
18:00
Since 2017 has Melahuset marked International Women's Day by focusing on women's rights, inclusion, oppression and intersectionality in a nuanced perspective. This year you can experience appeals/speeches from Culture and Equality Minister Anette Trettebergstuen and head of the MiRA centre, Fakhra Salim i. MC Cey, Stella Mwangi and Johanna Alem talks with Mona B. Riise about women and hip-hop, and there will be concerts with Kristin Asbjørnsen, Vicki and MC Cey. DJ Kiki plays records.
Kristin Asbjørnsen is one of the most original and critically acclaimed voices in Norwegian music, with a Spellamannspris in the bag. She made her solo debut with "Wayfaring Stranger – A Spiritual Songbook" in 2006. In 2018 she released the album "Traces of You" where poetic lyrics, guitars and West African kora are woven together into a beautiful and meditative soundscape.
MC Cey is one of Norway's first female rappers, and was a member of the legendary Legal Posse, Savage Army & X-Ray Posse. In 1990, she became the first Norwegian hip-hop artist to release her own album.
Vicki is an up and coming rapper from Gjøvik, and with a background in the trio Mamacitas.
Mona B. Riise is a journalist and presenter for TV and radio. In recent years, she has worked as a judge for NRK's Stjernekamp.
Stella Mwangi is a vocalist, rapper and songwriter with roots from Kløfta, Eidsvoll and Kenya. She fell in love with hip-hop as an 8-year-old and rap and hip-hop have since been a big part of her life.
Johanna Alem works as Head of Event & Promotion in Universal Music Norway and works closely with, among others, hip-hop artist Cherie Mwangi. She helped produce the program "Hev stemmen" which was broadcast on NRK1 in June, with over 30 participating Norwegian artists and profiles.
DJ Kiki offers a delicious mix of hip-hop, Afrobeats and dancehall. She started her DJ career in Sweden, has played in clubs in both Sweden, Denmark and Norway, and warmed up for both international and local artists.
---
The event is free and open to everyone. The doors open at 18:00 and the program starts at 19:00
We look forward!