A meeting between two masters and innovators of Indian classical music. During this year's festival, two real master musicians, Zakir Hussain and Niladri Kumar, meet at Cosmopolite. Their virtuoso duo performances are known to be spectacular events, where classical Indian music is taken to completely new places.
Zakir Hussain is one of the great tabla players of our time, known both as a solo artist and through cross-border projects such as Shakti and Remember Shakti with John McLaughlin, Sangam with Charles Lloyd and Eric Harland and collaborations with George Harrison, Van Morrison, Dave Holland, Chris Potter , Béla Fleck, Edgar Meyer and Herbie Hancock. He was the foremost disciple of his father, the legendary Ustad Allarakha, and began his professional career at the age of twelve, already accompanying India's greatest classical musicians and dancers. By the time he was eighteen, he was an internationally recognized name. He is not only known as an outstanding performer on his instrument. Percussionist and musicologist Mickey Hart, one of the drummers from the legendary Grateful Dead, has called him one of the most advanced rhythmists on the planet.
Niladri Kumar comes from five generations of sitar players. For many years he studied under his father and guru, Pandit Kartick Kumar, where he learned the Indian classical tradition before revolutionizing the playing of the sitar and the role of the instrument. He experimented with electric sitar, an instrument he called zitar, and has found a balance between respect for the traditional expression and newer forms of expression. He has worked with fusion legends such as Jonas Hellborg, V. Selvaganesh and the aforementioned guitarist John McLaughlin.
All of these collaborations are worth checking out – but there's still something very special when these two musicians meet in the intimate duo format. "We go on stage, and then we play... and in the next hour or a half we go on a journey together. Sometimes it's fabulous, other times it's so magical that we have to spend five days getting down to earth," Hussain has said previously. This autumn, Oslo World is the scene of such a meeting. You won't want to miss that.
---
The event is part of the Oslo World festival, read more on their website.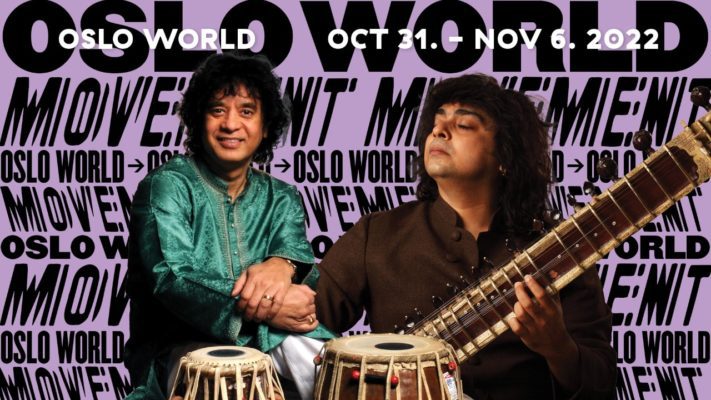 Published November 3, 2022