"Simply proposing to lay an emergency route across Rådhusplassen is to underestimate its importance as the capital's unifying hub," writes Oslo Mela in an opinion piece in VG on Saturday, November 11.
Read the post in full below the image.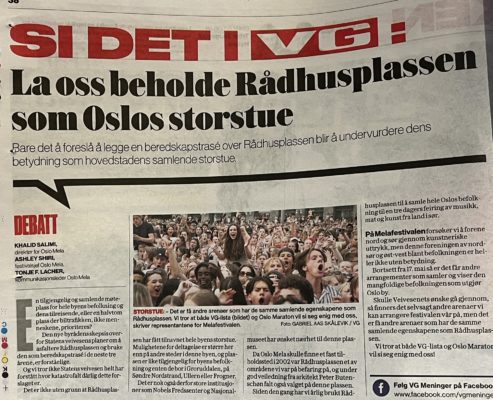 An accessible and unifying meeting place for the entire city's population and its visitors, or a half-empty square where car traffic, not people, is prioritized? The new mayor's skepticism about the Norwegian Public Roads Administration's plans to pave Rådhusplassen and use it as an emergency route for the next three years is certainly understandable. And we don't think Statens veivesen has fully understood how disastrously bad this proposal is.
It is not without reason that Rådhusplassen has been nicknamed the city's main square. The opportunities for communal participation are greater here than anywhere else in the city, and the square is equally accessible to the city's population, whether they live in Groruddalen, Søndre Nordstrand, Ullern or Frogner. This is probably also why major institutions such as the Nobel Peace Center and the National Museum have wanted to be close to this space.
When Oslo Mela was looking for a permanent venue in 2002, Rådhusplassen was one of the areas we inspected, and with good guidance from architect Peter Butenschøn, this was also chosen. Since then, we have used Rådhusplassen every year to bring together the entire population of Oslo for a three-day celebration of music, food and art from the countries of the south. At Melafestivalen we try to unite north and south through artistic expression, but this unification of north-south and east-west among the population is not without significance either. Apart from May 17, there are few other events that bring together and showcase the diverse population that makes up the city of Oslo.
Should Veivesenets wish go through, there are of course other venues where we can organize our festival, but there are few other venues that have the same unifying qualities as Rådhusplassen, and we believe that both VG-lista and Oslo Marathon will agree with us.
---
Published on November 12, 2023