This event has already taken place.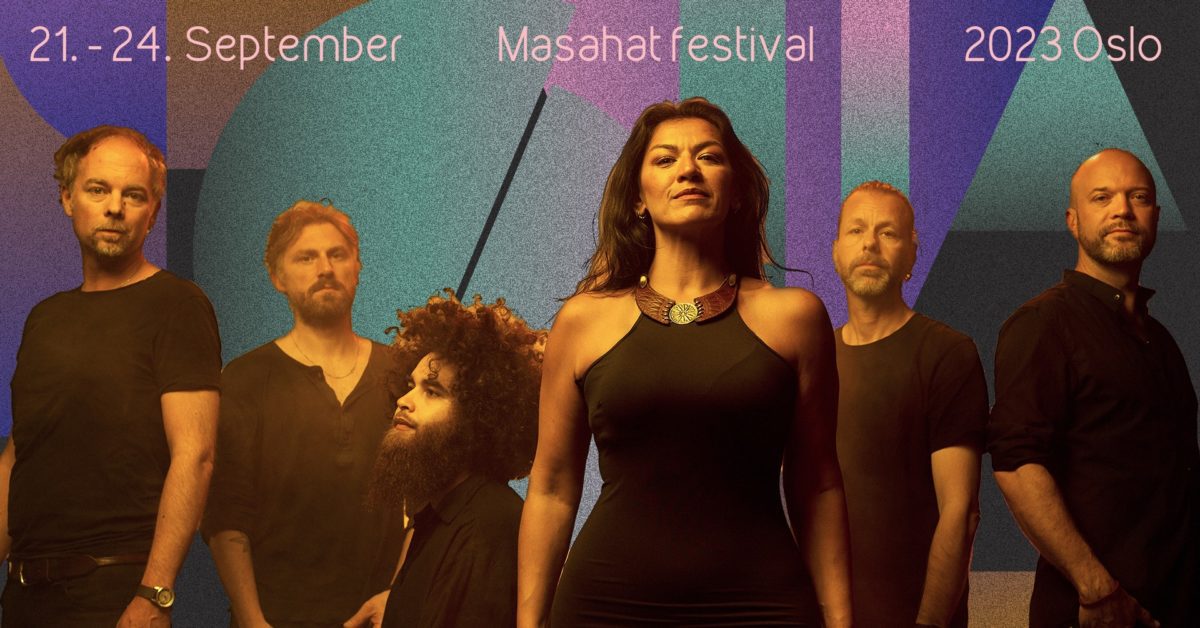 Thursday, September 21
Melahuset
08:00 P.M.
TARABBAND is coming to Oslo for the first time to open
Masahat festival 2023
! The band's name comes from the Arabic word Tarab, meaning "ecstasy through music"- and we promise you a no less thrilling concert!
Doors open: 20:00
Concert starts: 20:30
Join us on Thursday, September 21 at Melahuset and get ready to immerse yourself in a cross-cultural musical experience, sung in universal Arabic lyrics and performed with a fusion of folk and Middle Eastern melodies that make you want to leap out of your chair and dance.
Tarabband is a six-member group founded in 2008 by Iraqi-Egyptian Nadin Al khalidi and Swedish Gabriel Hermansson in Malmö, Sweden. With Nadin Al Khalidi's charismatic and sensitive voice, Tarabband music takes off from Malmö, travels via Paris and the Mediterranean to Cairo and Baghdad creating the band's original compositions and sound.
The group's front figure and vocalist Nadin Al khalidi fled from Iraq in 2001 arriving to Sweden as a refugee. Her lyrics merge political and social topics along with questions around identity, survival and love.
A unique live band with influences from North Africa, the Middle East and Europe - parts of the world where they have reaped enormous success, this year Tarabband is celebrating their 15th year anniversary with their fifth album "Yekhaf" - Arabic for "afraid of me". "Yekhaf" is based on human encounters and situations that the singer and lyricist Nadin Al Khalidi has been involved with in recent years.
The texts in Arabic weave together stories about people and life's destinies that are going on in parallel in different corners of the world - in Malmö, in the Jordanian Wadi Rum mountains, in Iraqi Mosul, in Cairo and in Baghdad, where Nadin was born and grew up.
When the musicians in Tarabband meet, they together create vibrant and touching soundscapes that invite you to dance, feel and think of the stories behind the lyrics and the melodies.
The event is a collaboration between
Masahat
and Melahuset.
-
20:00 تفتح الأبواب
20:30 تبدأ الحفلة
يسعدنا استقبال فرقة طرب باند في أوسلو لأول مرة لافتتتاح مهرجان مساحات 2023!
ندعوكم لحضور حفلة موسيقية فريدة تحملكم أغانيها وأنغامها عبر الثقافات والبلدان في مزيج من الألحان الفولكلورية والشرق أوسطية التي تطرب القلب وتدعوكم إلى التمايل والرقص على إيققاعات شرقية وعالمية.
طرب باند هي مجموعة من ستة أعضاء تأسست في عام 2008 من قبل المغنية والعازفة والمؤلفة العراقية المصرية نادين الخالدي والسويدي غابرييل هيرمانسون في مالمو، السويد. بصوت نادين الخالدي الجذاب والحساساس ، تنطلق موسيقى طرب باند من مالمو وتسافر عبر باريس والبحر الأبيض المتوسط إلى القاهرة وبغداد لتخلق الألحان والأغاني الأصلية للفرقة.
وصلت قائدة الفرقة والمغنية الأساسية، نادين الخالدي من العراق إلى السويد عام 2001 كلاجئة. تتتطرق نادين في كلمات أغانيها إلى ثيمات سياسية واجتماعية جنباً إلى جنب مع أسئلة عن الهوية والنجاة والحب.
تعد فرقة طرب باند فريدة من نوعها حيث تحتفي بتأثيرات من شمال إفريقيا والشرق الأوسط وأوروبا، وهي مناطق من العالم حصدوا فيها نجاحًا باهراً. تحتفل طرب باند هذا العام بعيدها الخامس عشر وتطلق ألبومها الخامس "يخاف" الذي يعتمد على لقاءات ومواقف إنسانية شاركت فيها المغنية والمؤلفة نادين الخالدي في السنوات الأخيرة. تنسج النصوص العربية قصصاً عن الناس ومصائر الحياة التي تجري بالتوازي في زوايا مختلفة من العالم - في مالمو وجبال وادي رم الأردنية والموصل العراقية والقاهرة وبغداد حيث وُلدت وترعرعت نادين.
عندما يلتقي الموسيقيون في طرب باند فإنهم يخلقون معًا عوالم صوتية نابضة بالحياة ومؤثرة تدعوكم للررقص والتأثر والتفكير في القصص وراء كلمات الأغاني والألحان.