This event has already taken place.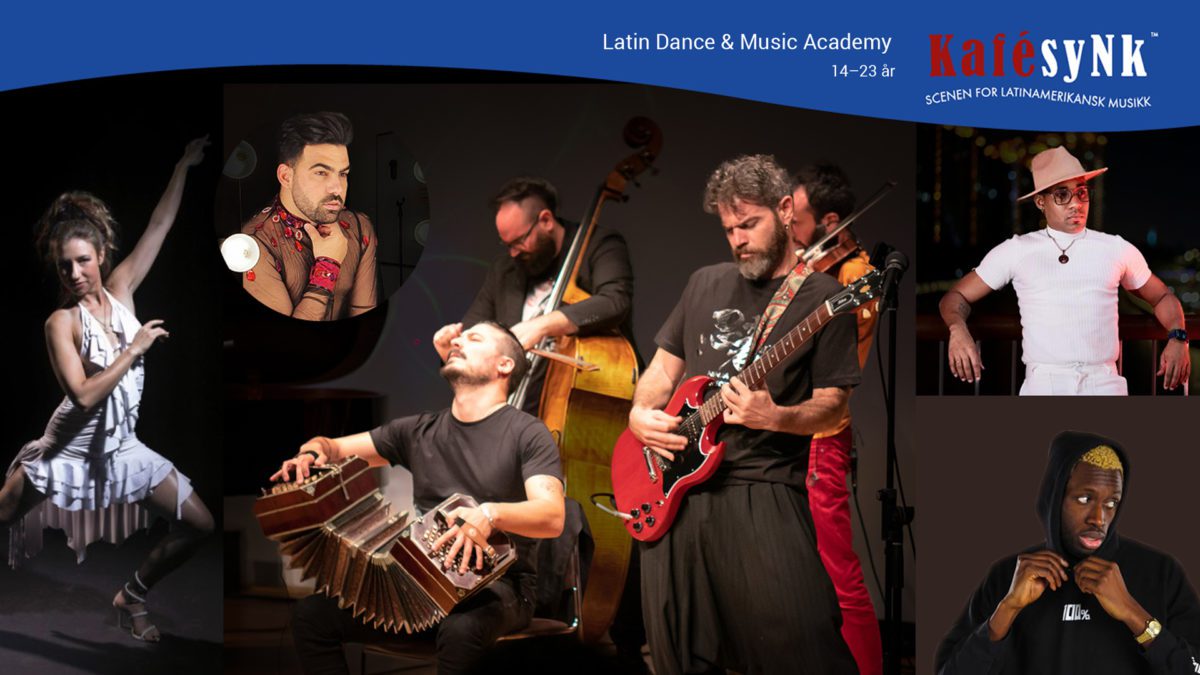 Opening show of Kafésynk - Latin Dance & Music Academy!
Wednesday, May 31
Melahuset
16:30
FREE - Don't forget to sign up! It may be full!(www.kafesynk.no)
On Wednesday, May 31, there will be a joint gathering for all young people who are part of the Kafésynk Academy, and there will be a dance show by all instructors and musicians from Kafésynk - Latin Dance & Music Academy!
The show starts at 16:30!
There will be a hip hop show with Young Cisto, a dance show by Yassell Lopez and Yasmani Hidalgo, and a tango - punk concert with the tango band El Cachivache Orkesta! All young people are welcome and admission is free.
At 18:00 the first workshop starts with Yassell Lopez. This is a Latin - Jazz dance class with high heels. Bring high heels or other dance shoes. The class is open level and suitable for everyone.
At 19:30 the next workshop starts with Yasmany Hidalgo Arzuaga from Rhythm dance studio. Here you can learn salsa couple dance and Afro-Cuban dance styles. The class is open level and suitable for everyone.
All classes last 90 minutes.
Would you like to join us all week at the Kafésynk Academy?
Are you between 14 and 23 years old? Interested in dance, play an instrument and want to learn tango, music production in the studio or seminar in the role of producer?
You can sign up for FREE to join one intensive week of the Kafésynk Academy for young people.
Date: May 30 - June 4
NB: The workshops will be in different locations in the center of Oslo! See the schedule on www.kafesynk.no
Workshops:
Salsa and Afro-Cuban intensive dance workshop with Yasmany Hidalgo Arzuaga from Rhythm.
Have you always wanted to learn how to dance salsa? Here you will learn salsa steps and walks, we will do some couple dancing, but you don't need to sign up with a partner.
Tango Punk with El Cachivache Orkesta from Argentina
Tango - punk show for everyone on Tuesday, May 30.
From Wednesday to Friday there will be music lessons for young musicians on Bandoneon, piano, guitar and double bass with registration. All students will learn a few common songs for performance on Sunday, June 4.
Practical seminar in the role of producer with Karoline Leon.
Here you will be actively involved in all aspects of management and show production. A practical approach in all theoretical tasks and personal development in the role of a manager.
Stage performance technique for artists with Young Cisto.
This is a workshop for anyone planning to perform on stage as an artist, poet or musician. Cisto teaches in groups and will work with one-to-one guidance.
Music production in the studio with Young Cisto
Curious about mixing and mastering in the studio? Lessons in small groups or one-to-one by appointment.
High heels dance workshop with Yassell Lopez
This is a high energy dance workshop focusing on jazz technique and Cuban movements. Yassell Lopez will teach in high heels. This is the opportunity to join an exclusive Latin - jazz show team for a week.
Visit www.kafesynk.no for the timetable, registration form and more information.